If you haven't yet signed up with Howsto, now is the time to do so. This is not a complete review of the site as it hasn't been released for the public yet. The will open soon this 2013. This is merely an initial review of the new site based on information they released.
In its homepage (as of today, you will be directed to the sign up page), how Howsto works is cleanly explained in an illustrated presentation. Howsto refers to itself as a site where you write tutorials and earn from them.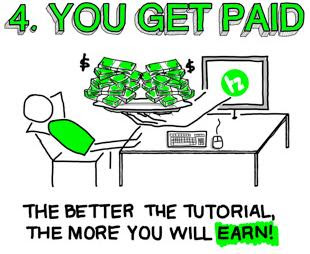 Get Paid Writing Tutorials for HowsTo
Here are the four main steps on how the process works:
1. You create. Write or record your tutorial. - Because of that "record" part, it seems that Howsto allows tutorials in video format.
2. We publish. We validate your work and publish it to the world. - This is good news as this implies that moderation of the content submitted to the site is going to be strict.


3. They react. Other people view and rate your work.

4. You get paid. The better the tutorial, the more you will earn. - There's a big question upon this one. How will you be paid? And how will your earnings be computed?