John Lloyd Cruz and Bea Alonzo are among the most popular actors in the Philippine entertainment industry today. This is hugely because of the large following they attracted as a tandem or what is popularly referred to in the country as a love team. The two actors headlined several John Lloyd Bea movies as well as a slew of television shows. The two wouldn't be where they are today if not for the magic they created whenever they are paired together in a project whether it's for the big screen or for television. As they say, the two have on-screen chemistry. Hell, they even have off-screen chemistry. There's a reason why their fans continue to support every project they do together.
Here's a list of John Lloyd Bea movies. You can't call yourself a John Lloyd-Bea fan if you haven't seen every single one of these films.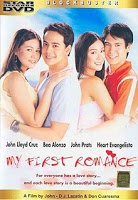 My First Romance
- This is actually a two-part movie. John Lloyd and Bea appear in the second story which comprises the film's second part. John Lloyd plays a soccer player named Enzo who seems to have everything yet he takes everything for granted. His life is turned upside down when he is diagnosed with a heart problem and that in order to live, he has to go through a heart transplant. The donor is the victim of an accident. This donor turns out to be the boyfriend of the character played by Bea who goes by the name Bianca. Due to the circumstances, Enzo and Bianca meet and a love story commences. Also starring in the movie are Joel Torre, Chat Silayan, Liza Lorena, Chanda Romero, Mico Palanca, Anna Larrucea, Dominic Ochoa, Alyson Lualhati and Joshua Dionisio.
Now That I Have You - Directed by Laurenti Dyogi through a story and screenplay written by Jose Javier Reyes, Now That I Have You follows the love story between a hopeless romantic and a romance non-believer. Through a friend, a girl gets to go to a date with a guy she fancies. In turns out that the guy is the exact opposite of her ideal man. In this scenario, will love still blossom? Now That I Have You also stars Nikki Valdez, Kristopher Peralta, Lui Villaruz, Jojit Lorenzo, John Arcilla, Jean Saburit, Noel Colet, Cholo Escano, Roxanne Guinoo and Neri Naig.
All About Love - This film is composed of three stories of love. John Lloyd and Bea are in the third story titled About Anna. Eric and Lia are two broken-hearted people who coincidentally live very near each other. They are neighbors. Eric is trying to get over the loss of his girlfriend Anna who passed away just recently. Lia on the other hand is also trying to come to terms with the fact that her boyfriend got another girl pregnant. In a sudden twist of fate, Lia gets her hands on a tape recorded by Eric for his dead girlfriend. Lia, not knowing that the tape was recorded by her neighbor Eric, starts looking for the owner of the tape. This sets of the main events in the film. Will the two unlikely characters fall for each other? Will they find love in each other's arms? The other two stories in the film star Anne Curtis, Luis Manzano, Angelica Panganiban and Jason Abalos. Supporting cast include Joem Bascon, Jean Garcia, Miko Palanca, Paw Diaz, Eva Darren, Mikel Campos and Lito Pimentel.
One More Chance - One of the highest-grossing Filipino films of all time, One More Chance centers around the story of Popoy and Basha, two young people who met in college (University of Santo Tomas). For the rest of their college years, they are inseparable. They became lovers but the relationship didn't turn out to be the fairy tale they were hoping for. So they broke up to give each other some space. However, the two soon finds out that breaking up was a bad idea as their situation gets even worse especially when Popoy starts seeing another girl. However, due to some turn of events, the two get to meet each other again and patch things up. Joining John Lloyd and Bea in the cast are Derek Ramsay, Maja Salvador, Dimples Romana, Beatriz Saw, Lauren Young, and James Blanco. It's directed by Cathy Garcia-Molina.
Close To You - Another movie directed by Cathy Garcia-Molina featuring the tandem of John Lloyd and Bea, Close To You is among the highest-grossing films of 2006. The plot follows the story of three people. There's Marian and Manuel who have been best friends since they were children. And then there's Lance, their classmate whose family migrated abroad where Lance became the lead singer of a rock band called Orion. Manuel is in love with Marian but he never had the courage to tell her. Marian looks at him as merely a friend. She is instead intent of getting the attention of the now-famous Lance. Whom will she end up with? Will it be Manuel or will it be Lance? Close To You also features Sam Milby, Melanie Marquez, Tetchie Agbayani, Buboy Garovillo, Reyson Yap, Nova Villa, and Carinne Cabebe.
Miss You Like Crazy - This is the unfolding of a unique love story in the span of five years. Allan Alvarez and Mia Samonte meet in a ferry boat cruising the Pasig River. Allan is musing if he really love his then live-in partner Daphne Recto. Mia on the other hand is going through family issues. The two meet and a special friendship develops between them. This sets off a series of events that will test their affection for each other. Are they meant for each other as predicted by an old man they met in a park? Co-starring with John Lloyd and Bea are Maricar Reyes, Jane Oineza, Ryan Eigenmann, Malou de Guzman, Ina Feleo, Ketchup Eusebio, Bembol Roco and Dianne Medina. The movie featured Natalie Cole's Miss You Like Crazy as its theme song.
The Mistress - Directed by Olivia Lamasan, The Mistress is about a son falling in love with the mistress of his father. You could say that this is probably the most unconventional story that John Lloyd and Bea ever took on screen. But the story worked well and the film went on to become one of the highest-grossing pictures in Philippine cinema history. Reviews of the film are also mostly positive. The cast includes Hilda Koronel, Ronaldo Valdez, Anita Linda, Carmi Martin, K Brosas, Clarence Delgado, Nor Domingo, Minne Aguilar, Gabe Mercado and Tony Mabesa.
24/7 In Love - This is an anthology film that features several stories involving a myriad of characters. John Lloyd and Bea join other major Star Magic talents in the film including Kathryn Bernardo, Daniel Padilla, Angelica Panganiban, Zanjoe Marudo, Sam Milby, Pokwang, Diether Ocampo, Maja Salvador, Gerald Anderson, Kim Chiu, Xyriel Manabat, Piolo Pascual and Zaijian Jaranilla. The film's directed by John D. Lazatin, Frasco Santos Mortiz, Mae Czarina Cruz, and Dado Lumibao.
If you have comments about the John Lloyd Bea movies listed above, please leave them at the comments section at the end of this article/page. Thanks.