Professional wrestler turned action star Dwayne Johnson has two movies coming out in 2015. There's
Furious 7
, the seventh installment in the
Fast & Furious
movie series which will roll into theaters on April 3. And then there's
San Andreas
, a disaster movie that chronicles what would happen to California if the San Andreas fault which runs through the state moves and causes a series of earthquakes and aftershocks.
The film is scheduled for a May 29 release date. In it, Johnson plays Ray, a rescue-helicopter pilot for the Los Angeles Fire Department. After a strong earthquake devastates California, Ray has to leave Los Angeles with his ex-wife Emma (Carla Gugino) to go to San Francisco and attempt to rescue their daughter Blake (Alexandra Daddario).
Watch the first trailer for the movie below.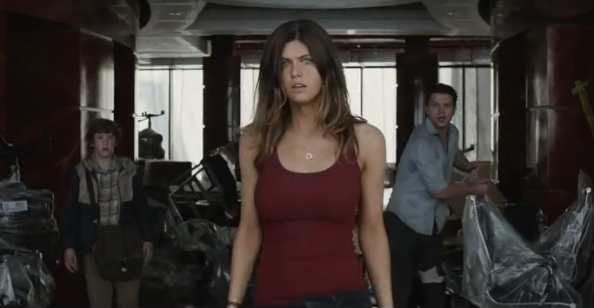 Alexandra Daddario as Dwayne Johnson's daughter in San Andreas.
Also starring in the movie are Colton Hayes, Art Parkinson, Paul Giamatti, Kylie Minogue, Will Yun Lee, Ioan Gruffudd, Todd Williams, and Archie Panjabi. The movie was directed by Brad Peyton (
Incarnate, Journey 2: The Mysterious Island, Cats & Dogs: The Revenge of Kitty Galore
).