2015 is going to be a very busy year for mixed martial arts superstar Ronda Rousey, the reigning Women's Bantamweight Champion of the Ultimate Fighting Championship (UFC). She will be defending her title on February 28 against another undefeated fighter in Cat Zingano.
Rousey is also in the cast of the seventh installment of the
Fast & Furious
film series which will roll into theaters on April 3 in the United States. Rousey plays a character named Kara in the movie. She stars alongside Vin Diesel, Paul Walker, Dwayne Johnson, Michelle Rodriguez, Jordana Brewster, Tyrese Gibson, Ludacris, Lucas Black, and Jason Statham.
The fighter is also starring in the upcoming comedy-drama
Entourage
which will be released on June 5. The film is connected to the television series of the same name that aired on HBO.
And last but not the least, Rousey has a book scheduled to hit bookshelves sometime in May. The memoir which will carry the title
My Fight/Your Fight
and it's written by Rousey and her sister Maria Burns Ortiz, a writer and sports journalist who contributes to ESPN and Fox News Latino.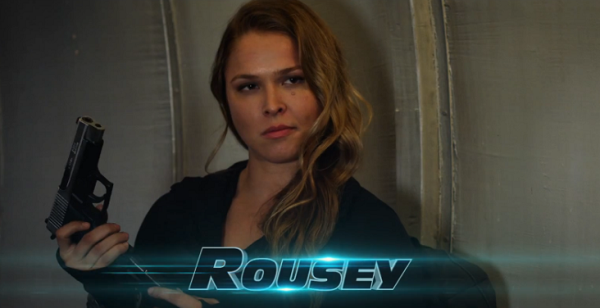 Ronda Rousey on The Expendables 3.
At a very young age of 27, Rousey has accomplished a lot of things. In 2008, she competed at the Olympic Games in Beijing and brought home a bronze medal in women's judo. In 2011, Rousey made her professional debut in mixed martial arts. The rest is history. She is currently undefeated in 10 fights. She won 8 of these via submissions and the rest via knockouts.