Cleaning the dirty interiors of a car can be a lot of work especially if you are using the wrong vacuum cleaner. First of all, you are going to need a vacuum cleaner that is rechargeable. Not only is it more convenient to use, it's also portable which means you can take it with your car wherever you go. When buying a vacuum, you should pick one with a powerful suction and with a design that wouldn't be too awkward to use in your car. And pay attention to the machine's battery capacity.
The Best Car Vacuum Cleaners In The Market
There are dozens of manufacturers but if you want the ones who offer the most durable and reliable machines, then we suggest you choose any of the following brands - Black and Decker, Dirt Devil, Eureka, and Shark. These are by far the best brands when it comes to rechargeable car vacuum cleaners. They have good customer support too so if you encounter problems, a quick fix should be promptly on the way.
What To Look For When Purchasing A Car Vacuum Cleaner
1. Cleaning performance - You want a vacuum that packs plenty of power. One that can suck out the dirt from your floor mats, thick seats, and small cracks.
2. Accessories - In some instances, the vacuum hose alone won't do the job. That's why you need additional accessories like smaller nozzles, a crevice tool for tight spots, and a brush tool for stubborn and sticky dirt.
3. Design - Needless to say, the vacuum cleaner should be small, lightweight, and portable. It should be compact enough so that you can easily navigate it through the enclosed spaces inside your car.
4. Help and support - There should be a warranty attached to the machine. Usually, this is one year but there are manufacturers who go beyond with an additional year or two.
What Type Of Cleaner Do You Need
There are certain factors that you need to take into account. There's the size of your car and the type of materials used in the car's interior. Cleaning a carpeted area is not the same as cleaning the leather seats. Also, we highly recommend that you choose a vacuum cleaner that has the ability to suck water. When it comes to cleaning a car, water is usually involved. Examples of good machines with water suction capabilities are Dirt Devil's Extreme Power and Hover Road's Rat.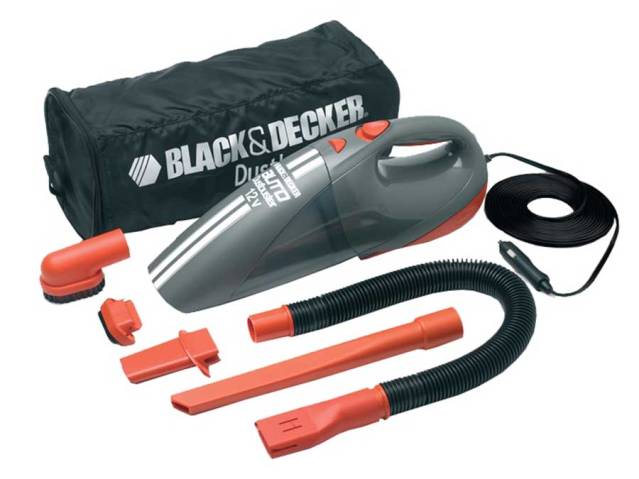 Battery Capability Is Very Important
A rechargeable and portable vacuum cleaner is great but it would be useless if its batteries die out very easily. When it comes to battery capability, the most reliable ones are those manufactures by the following brands - Black and Decker, Dirt Devil, Eureka, and Shark. These have batteries that really last long and you can use them several times before they run out of power.
When everything's said and done, you need to get your hands on a vacuum cleaner that's appropriate for the size and features of the interior of your car. It should also have the necessary accessories like extra nozzles, brush, and crevice tool. And of course, make sure that it has a battery that can last long after a full charge.
Sources:
1. Car Vacuum Cleaner Review - Reviews and Comparisons (http://car-vacuum-cleaner-review.toptenreviews.com/)
2. DH Gate (http://www.dhgate.com/reviews/rechargeable-car-vacuum-cleaner-reviews.html)
3. Walmart (http://www.walmart.com/c/bg/car-vacuum-cleaner-buying-guide)4. Ebay (http://www.ebay.com/gds/How-to-Buy-a-Car-Vacuum-cleaner-/10000000177699466/g.html)