For a few weeks or so, there have been rumors circulating all over the internet that comedian Ramon Bautista is in a relationship with Jinri Park, a stunningly beautiful Korean who have made the Philippines her second home while building her career as a model, radio disc jockey and columnist for the men's magazine FHM. Jinri Park and her family, according to her bio on Wikipedia, moved to the Philippines when she was just six years old.
As to the rumored relationship with Bautista, it looks like it's just exactly that. A rumor. The comedian just recently guested on the show What's Up Doods? and downplayed the rumors basically saying that he's just good friends with the Korean beauty. When asked by Edu Manzano (the host of the show) how Bautista would grade Park in a scale of 10, the comedian gave her an eight.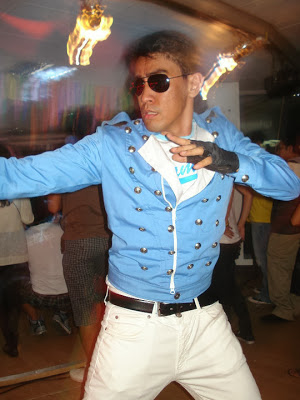 Ramon Bautista; a photo from the comedian's Facebook fanpage
The rumored relationship started when Park guested on the same show and mentioned being attracted to Bautista's sense of humor. Netizens picked it up from there and the rumors just went out of hand. Major news outlets even covered the unfounded rumors. So there you have it, Jinri Park is not Ramon Bautista's girlfriend.
Jinri Park can be currently seen starring on the show Vampire Ang Daddy Ko. She has made it into the list of FHM Philippines' Sexiest List for three consecutive years. She ranked number 13 in 2013.