f(x), one of the most popular girl groups out of South Korea will be releasing their latest album on July 29, 2013. The new album carries the title Pink Tape. Pink Tape will be released through the label S.M. Entertainment, the same independent record label that has artists like Super Junior, Zhang Liyin, EXO and BoA under its wings.
Pink Tape will be f(x)'s second studio album. Their first one titled Pinocchio was released back in 2011. The group released the EP Electric Shock in 2012. 2012 also saw the release of their hit single Hot Summer.An art film for Pink Tape was uploaded on YouTube on July 16, 2013. The video sampled and previewed a song called Shadow which is expected to be one of the songs in the new album. You can watch the so-called art film below:

The video opens with a voice-over saying "Love exists but with an absence of eternity. At the first moment of a lover's encounter, there's an affirmation of love. Psychologically, lunacy, emptiness, panic delusion that the moment will last forever. I'm ceased by desire. I hide behind my back and postpone all the answers." The song Shadow then follows.

Watch the art film below:
Several teaser pictures have also been uploaded online featuring members of the group. These teasers include the one below: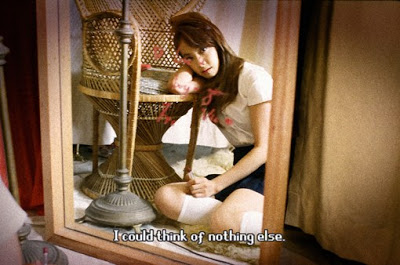 f(x) is composed of Victoria, Amber, Luna, Sulli and Krystal. They were formed in 2009 by SM Entertainment. They made their debut in the same year through their digital single called LA chA TA.
Before buying Pink Tape, you might want to check out first their first album Pinocchio. Pinocchio contained the songs Danger, Lollipop, Sweet Witches, So Into U, Dangerous, My Style, Beautiful Goodbye, Stand Up, Gangsta Boy and Love.